Whether you have been in Cambodia a long time or are looking at the potential of a second home in this beautiful country, you may have read that you cannot own land in the Kingdom.
This is true, kind of.
While there are various mechanisms that may allow foreigners to own land, the easiest is the Perpetual Leasehold (PL). This mechanism grants foreign owners 100% control over the property, including transfer rights, for up to 100 years. Bakong Village is proud to be one of the first projects to actively promote this mechanism, and we can happily say that we have worked with several foreign buyers to be happy Bakong homeowners. The following is meant to act as a guide to help you understand how it works.
What is a Title?
A title is an ownership certificate provided by the Cadastral Department of the Ministry of Land Management, Urban Planning, and Construction. These titles contain comprehensive information for a particular land plot or immovable property (ex. A Bakong Village home).
Titles are only available to Cambodian Nationals.
What is a Perpetual Leasehold Agreement?
A Perpetual Leasehold is a long-term lease agreement on immovable property for an initial term of 50 years. It is automatically renewed for a second 50-year term. It functions in most ways like a title but can be owned (or "leased") entirely by a foreign national.
The total leasehold duration is up to 100 years (two 50-year terms)
How Does it Work?
The PL is setup in a similar way to buying a property:
Customer signs a Perpetual Leasehold Agreement (PLA) with Bakong Village.
The PLA is a legal document Bakong Village will file with Cadastral Office (Ministry of Land Management).
The Cadastral Office will issue a Certificate of Perpetual Leasehold Title (CPLT) which reflects "indirect" ownership of the property
The foreign customer will have the same rights of a Khmer National under a normal freehold purchase.
What are my rights with a PL?
PL Customers have all the same rights as a freehold buyer, including:
full usage rights of the property subject to the same Bakong Village homeowners' policies.
Ability to sell/transfer the lease to another foreigner
Ability to sell the lease to Khmer National (who can transfer this into a freehold title)
Right to sublease the property to another renter
Pledge/mortgage the property with a bank (for loan financing)
Other real property rights under law.
Still have questions?
One of our home advisors would be happy to discuss, over the phone, Zoom call, or if you happen to be in town, at our showroom on site. Call us at +855 (0)10 333 680 or send us a message on our official Facebook page @BakongVillage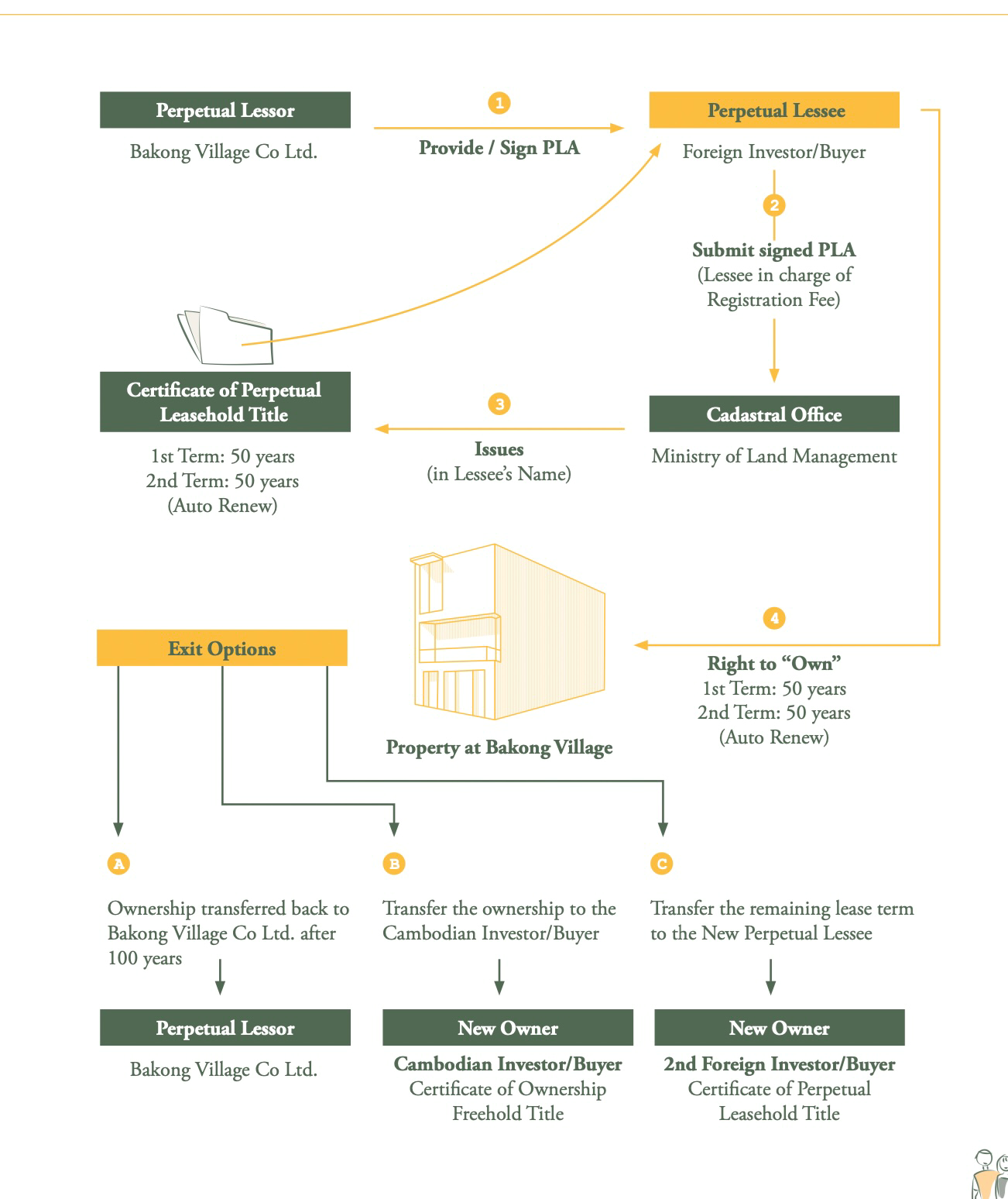 "Can Foreigners Own Land in Cambodia? Here's How."- by ips-cambodia.com
"FOREIGN OWNERSHIP"- by Knightfrank.com.kh
"Buying property in Cambodia"- by B2B Cambodia
"How Can Foreigners Buy Land Legally In Cambodia?"-by beyondrealty.asia